Passo del Sommo-Ortesino



Bike Tracks: Passo del Sommo-Ortesino
A very relaxed route.It starts from Passo del Sommo, not far from Costa, at the Villaggio Nevada. After a section of dirt track it descends to the Ortesino forestry area.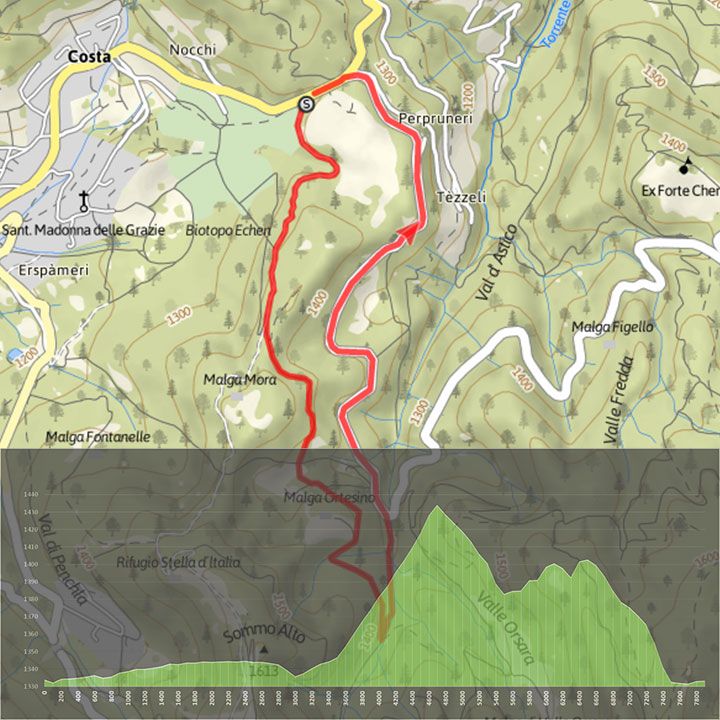 About half way along the route, just beyond the 'barracks' (ruins from the First World War), turn left and follow a connecting ski run to descend to the mysterious Stallone (an antique animal shelter).
Continue, following the main road, passing the junction for Malga Ortesino (mountain restaurant) and continue up and down to reach the location called Palazzo. After turning left you reach the panoramic Strada dei Fiorentini.
 After reaching Ortesino (hotel and ski lift) follow an easy panoramic tarmac road back to Passo del Sommo.
About half of the route is on dirt tracks and paths, the remainder on tarmac roads.
Track for Mountain Bikes and E-Bikes
Download the route maps
Difficulty Easy
Time 1 hour
Maximum altitude 1446 m
Distance 7,8 km
Height difference in ascent 160 m

Height difference in descent 157 m
Medium difficulty route for families
Distance for E-Bikes Short
Circular route