Ascent of Monte Maggio



Bike Tracks: Ascent of Monte Maggio
An ascent to a summit that offers a majestic panorama.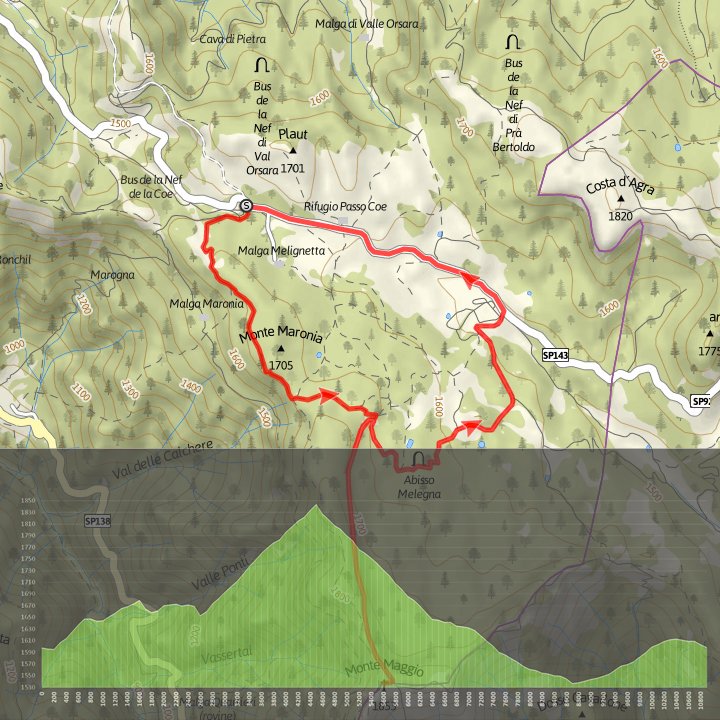 The crest of Monte Maggio (1853 m) was the old boundary between the Austro-Hungarian empire and the Kingdom of Italy.
There is a wonderful view from the summit with the Pasubio mountain group catching the eye with Col Santo, Cima Palon, the Dente Italiano, and the Dente Austriaco. In the distance the view extends to the Veneto plain.
The ascent towards this very attractive objective starts from the Camini junction, near Passo Coe. Along the route you encounter points of interest like Base Tuono (Museum of the Cold War), the Sacrario di Malga Zonta (Resistance memorial), and Lago Coe. The final section, in ascent, is on a tarmac road.
The route requires a good level of fitness and riding technique.
Track for Mountain Bikes and E-Bikes
Download the route maps
Difficulty Easy
Time 1,35 ore
Maximum altitude 1834 m
Distance10,7 km
Height difference in ascent 373 m

Height difference in descent  367 m
Difficult route for families
Distance for E-Bikes Short
Circular route