Folgaria megabike



Bike Tracks: Folgaria Megabike
This track is very technical and requires a good level of fitness. It follows the "classic" version of the Folgaria Megabike, an MTB cyclosportive event.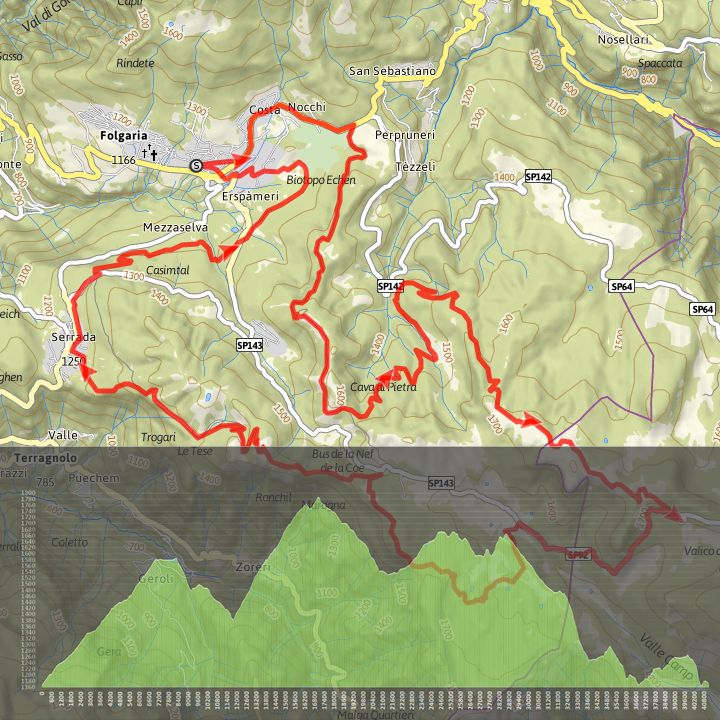 The whole route is at high altitude from 1170 m in Folgaria to 1340 m at Passo del Sommo, from 1613 m at Forte Sommo to 1786 m on Pioverna Alta, and finally 1670 m at Forte Dosso delle Somme.
The final section is all downhill with wonderful views over Valle di Terragnolo and the Pasubio mountain range.
It is a circular route starting and finishing close to Lago Coe – Sacrario di Malga Zonta (1543 m). Descend the long Val dei Campiluzzi crossing the border between Trentino and Veneto. Continue along an easy dirt track passing Malga Campo Campoluzzo Superiore (1482 m), Malga Campoluzzo di Mezzo (1430 m), Malga Campo Azzaron (1320 m), going around the eastern side of the mountain gradually starting to climb passing Passo della Pianella (1365 m), the Cappello del Vescovo (1490 m), and the junction for Malga Toraro until you reach, still in gradual ascent, the main road close to Rifugio G. Rumor (1658 m).
From here continue on a dirt track to reach the Valico di Valbona above (1782 m) with a wide view over the Asiago Alpine Plateau.
From the Valico you return to the starting point descending the easy main road and passing Rifugio Valbona.
Track for Mountain Bike and E-Bike
Download the route maps
Time 3 hours
Distance 41 km
Maximum altitude1786 m
Height difference in ascent 1353 m
Height difference in ascent 1353 m
Height difference in descent 1354 m
Distance for E-Bikes Long – Recharge required
Circular route