Passo Sommo – Val Fredda – Durer – Grimen



Bike Tracks: Passo Sommo – Val Fredda – Durer – Grimen
A long tour that requires some confidence on a bicycle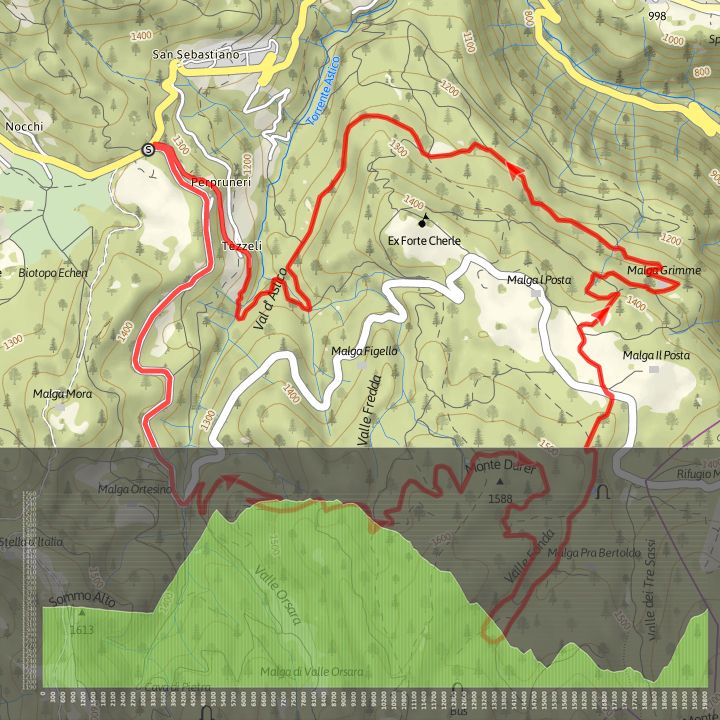 From Passo del Sommo (1343 m), after a few easy kilometres on a tarmac road, you ascend up into the heights of the Alpe dei Fiorentini, close to the boundary with Veneto, following long forestry tracks immersed in lush spruce forest.  Apart from the initial section most of the route is on dirt tracks.
Take the main "SP dei Fiorentini" road and after Ortesino, in the Zambel area, immediately after the bridge, take the dirt track that climbs steeply up to Val Orsara and Malga Pioverna Alta.
Pass the junction for Malga Val Orsara arriving at Incassero (signs) and take the long dirt track that crosses Val Fredda and then turns towards Cima Durer, descending finally to the Pra' Bertoldo forestry area. You come back onto the "SP dei Fiorentini" road near to Malga Seconde Poste. After passing this, descend the steep north side of Dosso del Cherle passing through the Grimen area.
Proceed along the easy dirt track that leads quickly west to the Astico torrent. From here a demanding climb passes through the settlements of Tézzeli and Perprùneri, leading back to Passo del Sommo.
v
Download the route maps
Difficulty Easy
Time 3 hours
Maximum altitude 509 m
Distance 490 m
Height difference in ascent 55 m

Height difference in descent 61 m
Distance for E-BikesShort
Circular route