Folgaria-Costa-Francolini



Bike Tracks: Folgaria-Costa-Francolini
This is a panoramic route, very relaxing and suitable for mountain bikes or e-bikes.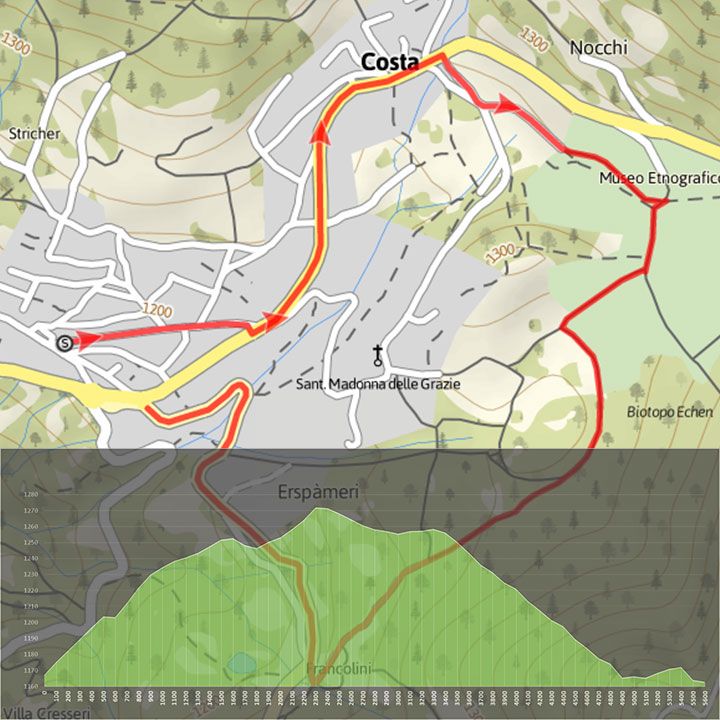 The starting point is Folgaria Ovest (Via Gen. Cadorna). Follow the road Via Gen. L. Cadorna, on a modest uphill slope. At the roundabout take the SS350 road towards Costa.
You quickly reach the settlement and continue through it. At the end turn right towards the Santuario della Madonna delle Grazie. After about 200 metres from the junction, in the Négheli area, turn left going up the road with stone paving towards the eighteenth century Maso Spilzi (museum and exhibition venue).
As you approach the Maso, turn right following the small road that cuts across the Golf Course (9 holes) and leads to the Ecken Biotope (protected area). When close to the biotope turn left following the dirt track on the edge of the protected area.
About half way along turn left, following the dirt track through the meadows and woods to the village of Francolini. Once through the village take the main road turning right towards Folgaria. You soon reach the roundabout (Folgaria Est) close to the starting point.
Track for mountain bikes or e-bikes.
Download the route maps
Difficulty Easy
Time 34 minutes
Distance 5,4 km
Maximum altitude 1276 m
Height difference in ascent 115 m
Height difference in descent 113 m
Easy route for families
Distance for E-Bikes Short
Circular route